Top pink products to celebrate in style
On Wednesdays, we wear pink. Okay, okay – so not every Wednesday we wear pink, but our rose gold and pink products do stand out every day.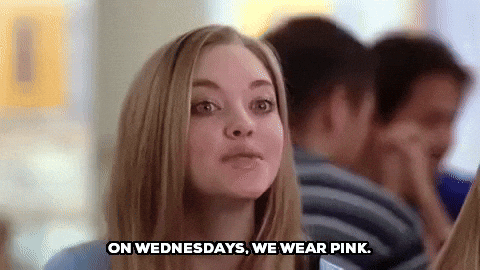 This Sunday, June 23rd is National Pink Day and here at mDesign, we like to honor this holiday to the max. We offer everything from bathroom to kitchen storage solutions and everything in between in your new favorite color, PINK! Here are our top pink items to add to your collection.
Bathroom
take your beauty routine up a notch with these stylish items!
Baby's Room
nothing is sweeter than a precious baby – or maybe our pink accessories are?
Office/Home Storage
Why not embrace pink around your home with these fun accents!
Laura Sirk is a Marketing Manager at mDesign.
and loves all things organization and cats. I'm one cat away from being a cat lady. MEOW!
GIF was used from the site: giphy.com
How do you stay organized? We'd love to hear your story!
There are many ways that you can contribute and be part of our family.
Add your social media photos to our website and more! Visit mdesignhomedecor.com and learn how you can help spread the word. Get 10% off your first order when you subscribe to our email list. Plus, follow us on social media.
Recent Posts
Bring some life back into your party with these fresh backyard game ideas Summer may be winding …

What Our Favorite Bravo Housewives are Clutching If the popularity of the handbag has died, The …

Homemade candy corn bath salts, scrubs and bombs Bring the colors and smells of fall into your b …