How to organize and store your makeup and beauty samples so you actually want to use them
Most women love to try samples before they buy the full product – I know I do. What is it about commitment to the full-sized cousin that we all have a problem admitting?
There are lots of ways we acquire these samples: beauty counters, hotels, subscription boxes, or samples you have signed up for online.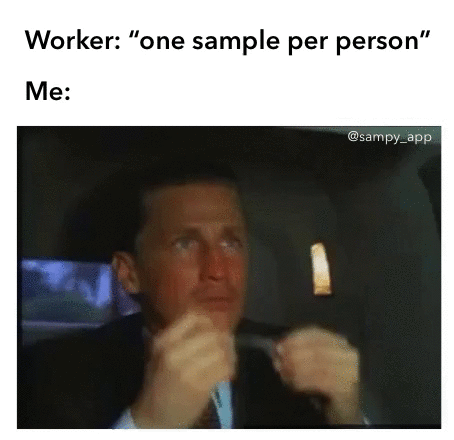 I personally LOVE getting the samples each month, opening the box, going through all them, imagining myself as I use them down the road. I don't know about you, but after I open, I usually end up throwing all these samples in the bottom of my bathroom drawers – never to been seen from again. Hello, hoarding addiction??? I am soon going to be buried alive by my sample problem.
Sample packaging is small and gets pushed down from our everyday products. I have tried lots of different ways to organize these small samples over the years and found a few simple, easy storage solutions helped me make the best of these samples, so I actually use them!
For starters, take out all your samples and put them on the table. Yes, all of them. Then divide into different sections. Here are the sections I did: hair care, nail polish, moisturizers, brushes, cleansers & scrubs, makeup, lipsticks, eyeshadows, skin care. Remove anything that is expired. We have resources at the end where you can donate it.
Now that you know exactly what you want to keep here are some genius ways to keep them organized.
1

Glass Apothecary Jars/Canisters

2

48 Pocket Hanging Organizer

These make the perfect

sample storage container

because they are small and see-through (so things don't get lost). You can store these on the counter or put them in cabinets. Either way, you are going to know what you have and remind yourself to use them.
When space is tight – look to the door. This

clear hanging organizer

has mini compartments to keep all the different types of beauty samples separate but all together. You can easily grab-and-go when you are in the bathroom and try all the different samples.
3

3-Drawer Divider

4

Divided Clear Storage Box with Lids

This is one of my favorites! Get yourself a couple of these

3-drawer storage organizers

and place them in your hallway/bathroom closet. Then take all your samples and place each type in a drawer. This makes it super simple when I'm going on vacation, I know that I can grab something from each drawer and be packed in minutes.

This box

comes with a hinged lid to help keep all your samples together. There are 8 sections per box so you can.
5

Storage Cube Baskets

6

Guest Bathroom Ideas

For a more natural storage option, these

woven baskets

are it. You can easily store your samples in their own basket and either store them in a drawer/cabinet or keep them out on the countertop. Not enough space in your cabinets, closets or drawers? You can hang these baskets on the wall and add your samples there!
We have all been there. Sitting in the airport or car and that one thing you forgot comes to mind. Facewash, toothpaste, moisturizer - whatever it is the feeling of dread when traveling is never fun. To ease that fear, use your samples in the guest room so when you have overnight guests, they can grab or try whatever samples they may have forgotten. Make them feel extra special and roll up small towels to place in

this basket

too.
mDESIGN TIP

: add contact paper to the bottom of your clear organizers to add an extra pretty effect

7

Divided Drawer Organizer

If you want to keep your samples handy, then these

divided drawer organizers

are perfect. You can section off the different types of samples and these are stackable so you can gain more space in your drawers.

It's also ok NOT to keep all these samples too. Donate the ones you know you are not going to use. There are lots of places that need personal and beauty care so spread the love: women's shelters, orphanages, and Ronald McDonald House. Makeup can be donated to teen and youth development centers or Dress for Success! Whatever you choose to do with your samples, you are going to love cleaning out that junk drawer of samples – enjoy!
Laura Sirk is a Marketing Manager at mDesign
and loves all things organization and cats. She's one cat away from being a cat lady. MEOW!

How do you stay organized? We'd love to hear your story!
There are many ways that you can contribute and be part of our family.
Add your social media photos to our website and more! Visit mdesignhomedecor.com and learn how you can help spread the word. Get 10% off your first order when you subscribe to our email list. Plus, follow us on social media.
Recent Posts
Bring some life back into your party with these fresh backyard game ideas Summer may be winding …

What Our Favorite Bravo Housewives are Clutching If the popularity of the handbag has died, The …

Homemade candy corn bath salts, scrubs and bombs Bring the colors and smells of fall into your b …